Martha received rave reviews on her latest show at the Highline Ballroom in NYC - June 23rd! Check out Pics and reviews from Spin & Brooklyn Vegan below. More coming!
SPIN REVIEW of NYC Show @ The Highline Ballroom
"It Happened Last Night"
Martha Wainwright Storms Through New York
The thunder and rain outside proved perfect complement to the Wainwright clan's prodigal daughter's emotive set.
By TRICIA SUMMERS 07.24.08 11:46 AM
Martha Wainwright / Photo by Sean O'Kane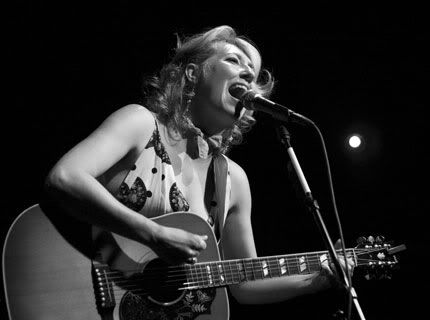 If anything was emblematic of Martha Wainwright's show last night at the Highline Ballroom, it would have been the weather. While the skies vacillated between softly humid and fiercely torrential, Wainwright delivered her unique blend of tender and rough in a crowded and intimate setting.
Following a rousing and frequently hilarious performance by queer icon Justin Bond, Wainwright took to the mic in sky-high sparkly heels and a demurely sexy floral mini-dress. Modestly mumbling "Hi" to the swelling audience, the Montreal chanteuse began to delicately pick out the melody of opener "I Wish I Were" from her latest album, I Know You're Married but I've Got Feelings Too. Wainwright leaned into the mic stand with every burst of emotion, punctuating her vocals with nonverbal gestures.
The gentleness subsided as Wainwright launched into "Bleeding All Over You," now joined by her backing band members, with a voice both gentle and aggressive, which was a polarity that peppered most of the evening. "Jesus & Mary" showcased her signature mix of wail, growl, and bluesy melismatic delivery. Wainwright's upper register slid back and forth over favored syllables, especially during old fan favorites like "Far Away" and "This Life." And of course, in true folk spirit, Wainwright sang an anti-war song, "The Tower."
Midway through the set, after a few mild vocal cracks and wobbles, Wainwright apologized sweetly for her voice, explaining she had just been at her brother Rufus' birthday party and the whole family had sung themselves hoarse. "There are a lot of big voices in my family," she joked, and the crowd cheered Wainwright on reassuringly. And while that may be true, Martha Wainwright can certainly hold her own.
BROOKLYN VEGAN Review of NYC Show @ Highline Ballroom
Martha Wainwright (& Rufus, Kate McGarrigle, Doveman, Jim Campilongo) @ Highline Ballroom, NYC - pics
words & photos by Chris La Putt
Last night's show at the Highline Ballroom (July 23, 2008) had the flair of drag queen drama as Justin Bond, of Kiki and Herb fame (she's Kiki), performed a number of jazzy songs written by transvestite singers she's met along the way. Bond cooed in to the mic as he was backed by Doveman's Thomas Bartlett on piano/keyboard and a rather shiny and scantily clad guitarist.
Continuing on with the theme of sorrow and despair, Martha sang "I Wish I Were" with the simplicity and anguish of a broken heart. Slowly strumming her guitar and alone onstage with a powerful voice, she knew she had the crowd wrapped around her fingers. "I Wish I Were" is the first single of her new album that was just released a month ago. It was Doveman's last night performing with the band that also includes Living Room regular/guitarist extraordinaire Jim Campilongo, and Martha's husband Brad Albetta on bass. And speaking of family, the highlight of the evening was when Canadian folk singer Kate McGarrigle (i.e. Martha's mother) and Rufus (Martha's big brother) sang an encore with Martha. Ms. Wainwright ended the night with crowd favorite, "Stormy Weather." "Last night we went to see Martha Wainwright play the Highline Ballroom. We opted to be seated at a table on the balcony, where the host sat us adjacent to an empty table with reserved signs on top. The table remained empty until midway through the opening set, when Martha's brother, and one of my favorite singers, Rufus Wainwright wandered up to the table alone and sat down in the chair right next to me.
Separated by nothing more than some stale concert air, we enjoyed his sister's set together until partway through, when he left to go join her and their mother Kate on stage for a rendition of Don't Forget.